"Democratic Legislator of the Year"
- Michigan AFL-CIO, 2019
- Michigan Economic Developers Association, 2020
- Michigan Municipal League, 2020
- MIRS News, 2021
- Michigan Association of Counties, 2022
- Michigan Townships Association, 2022
I grew up in Southfield and attended Groves High School and Michigan State University. While at MSU, I participated in several student-led humanitarian aid missions in the US and around the globe, twice traveling to New Orleans in the aftermath of Hurricane Katrina to assist with cleanup efforts and spending time abroad in Uruguay to build housing in among the most impoverished areas of South America.
As a part of my studies, I completed a program in South Africa on race relations. While there, I joined with my classmates to help build and establish Vumundzuku Bya-Vana Children's Center in the township of Zonkizizwe to assist at-risk children orphaned by HIV/AIDS. I returned home to earn a bachelor's degree in journalism with an additional major in political science and graduated from MSU with high honors in 2008.
In 2011, I saw an opportunity to bring a new voice with fresh ideas to Southfield government. I successfully ran for the City Council, becoming the city's youngest-ever elected official. As a Councilman, I worked with my colleagues to rebuild crumbling infrastructure and make record investments in road construction, help businesses grow and create local jobs, and jumpstart one of Michigan's critical economic hubs.
Working to deliver more resources to my community, I ran for the State Legislature. I was elected to the Michigan House of Representatives in 2014 and was selected by my colleagues to serve in leadership as the Democratic Whip. After two terms in the House, I was elected in 2018 to represent southern Oakland County in the Michigan Senate and am currently the Assistant Democratic Leader.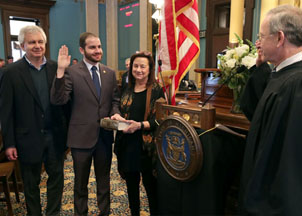 MIRS News, a daily news service that covers the State Capitol, honored me as their 2021 Democratic Legislator of the Year, specifically citing my work in the Senate to restore ethics in state government, create an affordable housing market, and protect voting rights in Michigan.
I'm proud of the eight Senate Bills I sponsored that were signed into law, including legislation to expand pathways for students who dropped out of high school to go back and complete their degree, reform our justice system by reducing barriers for returning citizens seeking employment, and allow more homeowners to apply for reduced property taxes as they make needed home upgrades.