Posted on 02/12/2016
A trio of southern Oakland County's effective Democratic state representatives announced today that they will be running for re-election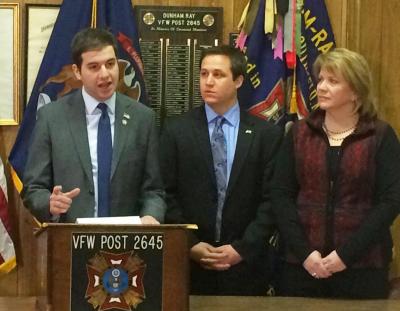 to the Michigan House of Representatives.
State Representatives Christine Greig of Farmington Hills, Jeremy Moss of Southfield, and Robert Wittenberg of Oak Park each stand on a solid record of public service during their first year in the legislature and intend to continue their advocacy for Oakland County in a second term.
Greig, who served as president of the Farmington Area PTA Council prior to taking office in Lansing, quickly earned a reputation around the State Capitol as a go-to expert on education policy.
"I am honored to serve the people of Farmington and Farmington Hills, and I look forward to continue advocating for strong schools and quality public education for our children," said Greig, vice-chair of the Women's Progressive Caucus.
She serves on the House Committees on Education, Workforce and Talent Development, and Communication and Technology and is also a founding member of the Legislative Disabilities Awareness Caucus.
Greig spent much of her first term working to improve mental health services, protect the environment, and ensure economic security for Michigan residents.
"I thank my constituents for putting their trust in me to represent their interests in Lansing," Greig said.
Moss, a former Southfield City Councilman, is the minority vice-chair of the House Local Government Committee and is the Democrats' point-person on legislation affecting local municipalities.
"I'm proud to be a strong voice in Lansing for our most local concerns at home," said Moss, who served as acting chairman of the committee just six months into his tenure as state representative, marking the first time in recent years that a member from the minority party has chaired an entire legislative committee meeting with action items on the agenda.
He is leading several good government reforms in Michigan, including creating an independent redistricting commission and expanding the Freedom of Information Act to include the state legislature and governor's office.
"I've also been focused on revitalizing our Oakland County suburbs and promoting economic development and redevelopment," Moss said. In his first year in office, he successfully pushed to extend the Commercial Rehabilitation Act which seeks to reverse commercial blight.
Wittenberg is a homegrown product of his district, as a public school graduate who became a licensed life and health insurance agent. He put his career expertise to good use as a member of the House Committees on Health Policy and Insurance.
"In a second term, I will remain committed to supporting legislation that will help strengthen Michigan's middle class, protect our seniors, and increase funding for our public education system," said Wittenberg, who also serves as minority vice-chair for the House Committee on Financial Liability Reform.
He introduced proposals to reform Michigan's electoral process, including House Bill 4816 to shorten the deadline to register before an election, and to institute common sense gun control, including House Bill 4942 which would create a gun violence restraining order.
"I will continue working on gun reform legislation, strengthening voting rights, and advocating for equal rights for all," Wittenberg said. "I believe that if we all work together, put partisan differences aside, and build on our strengths, that Michigan — already great — can be greater still."
Greig, Moss, and Wittenberg collectively represent southern Oakland County from Haggerty Road to Dequindre Road. Greig's 37th House District is made up of Farmington and Farmington Hills. Moss' 35th House District includes Southfield, Lathrup Village, Beverly Hills, Bingham Farms and Franklin. Wittenberg's 27th House District is comprised of Berkley, Ferndale, Hazel Park, Huntington Woods, Oak Park, Pleasant Ridge and Royal Oak Township.